Planning Ahead for Tax Credits and Deductions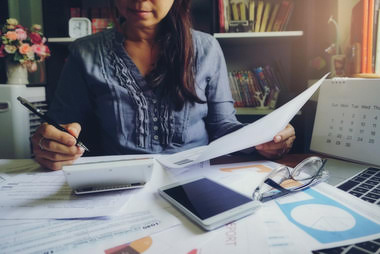 Most people use software or hire an accountant to help them find all the deductions they can subtract from their taxable income and all the credits they can subtract from their final tax bill. But most tax breaks require you, the taxpayer, to plan ahead. Even the most skilled accountant can't deduct a charity donation from your income if you forgot to save the receipt.
Taxable income is what's left over after all your eligible deductions are subtracted from your adjusted gross income. This includes the standard deduction. Although most individual taxpayers take the standard deduction, some taxpayers choose to itemize their deductions because it lowers their taxable income. Here are some tax planning tips from the IRS:
As a general rule, if a taxpayer's itemized deductions are larger than their standard deduction, they should itemize. In some cases, taxpayers may even be required to itemize.
Taxpayers can use the Interactive Tax Assistantto see what expenses they may be able to itemize. Or they can discuss their situation with a qualified tax professional.
Taxpayers can subtract tax credits from the total amount of tax they owe. To claim a credit, taxpayers should keep records that show their eligibility for it.
The American Rescue Plan made changes to several valuable tax credits, including the child and dependent tax credit, the childless earned income tax credit, and the child tax credit. It's important for taxpayers to understand how these changes may affect their 2021 tax return.
Properly claiming tax credits can reduce taxes owed and boost refunds. Taxpayers can check now to see whether they qualify to claim a credit next year on their tax return. Some tax credits, like the Earned Income Tax Credit (EITC), are even refundable, which means a taxpayer can get money refunded to them even if they don't owe any taxes.
Child tax credit
Important changes to the child tax credit will help many families get advance payments for the credit starting this summer. The IRS will pay half the total credit amount in monthly payments beginning July 15. You will claim the other half when you file your 2021 income tax return. These changes apply to tax year 2021 only.
To qualify for advance child tax credit payments, you—and your spouse, if you filed a joint return—must have:
Filed a 2019 or 2020 tax return and claimed the child tax credit on the return; or
Provided the IRS with your information in 2020 to receive the economic impact payment using the "Non-Filers: Enter Payment Info Here" tool; and
Resided in your main home in the United States (the 50 states and the District of Columbia) for more than half the year or have filed a joint return with a spouse who has a main home in the United States for more than half the year; and
A qualifying child under age 18 at the end of 2021 who has a valid Social Security number; and
Made less than certain income limits.
You can learn more about tax deductions for individuals on the IRS website. If you have more questions, please contact R&A.